In the last article we discussed about the importance of reading habit in a child's life. I had said earlier that it is a long topic and hence, I have divided it into some small topics.
Today I will discuss the importance of mother's role in this journey.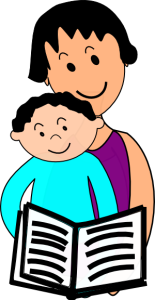 A mother has a very important role to play. It is said that "Home is Child's First School and Mother his First Teacher".
In the beginning a child may find it difficult to identify figures and letters. A polite help by mother in reading out a story will give very good result. A hesitating reader would gradually catch up the speed and understanding.
Mother can pick a certain time of the day that is dedicated to sit together and read. It will help to have a routine. Also it is usually better to have your child finish his work before his play or watching television. In psychology this is called as the "Premack's Principle". This way work (or reading) is rewarded with access to what your child likes to do.
A mother should praise her child for reading and learning endeavors. The child should be encouraged even if he makes mistakes, his success should be counted and mistakes ignored
If all these things are kept in mind, they can be of great help in the process of learning.
Continuing this topic, we will discuss about the importance of "Availability of Books" in the next article.