Continuing the last topic of "Importance of Mother's Role" in improving reading habit in a child, today we will discuss the importance of "Easy availability of Books or Reading Material".
Just to emphasize on why we are running these series of articles on improving reading habit: Data published by the National Literacy Trust report 2012, shows that just three in ten children now read every day in their own time compared with four in ten seven years ago. The research was based on a long-running survey of 21,000 children in primary and secondary education. In the report, 54% of those questioned said they preferred watching TV to reading and 17% of youngsters would be embarrassed if their friends saw them reading. Researchers have put a warning that young people are increasingly shunning text in favor of other activities such as television and game consoles.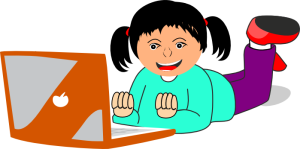 So the best way to initiate a child towards this journey is "Start Young".
First of all to stimulate reading, keep reading material throughout the house. This will increase your child's access to them.
Books, be it in a printed format or a digital format, should be in easy access of the child. As we said earlier, the only condition of learning is that the child must have easy access to what has to be learnt.
Keeping books in a high cupboard or in a bolted shelf is never advisable. Instead they should be kept at approachable places – close to his bed, on his reading table, in his play room, in your laptop, tablet, or mobile. Keeping reading material in easily accessible places will give him an opportunity to read the book whenever he desires.
Even if your child is too young, you should still provide him with books so that he can hold and flip the pages. Though a very young child cannot read, he can still admire the pictures, flip the pages by hand or through mouse clicks.
If you find that your child is initially not reading the books, let him aimlessly turn the pages and even tear them, let him mess up with the settings of your laptop or tablet. After his experiments with the books, you as a parent can sit with your child and read out the story for him. A simple loving persuasion will eventually improve his behavior and will nudge him towards this habit.
Regular and easy contact with books has shown very encouraging results in educationally conscious homes. Parents who often provide their children with books, magazines, e-books, or digital books have no problem to worry about their grown up children's education and career. A reading child will always be a successful child.
In the next article we will discuss about "selection of books".